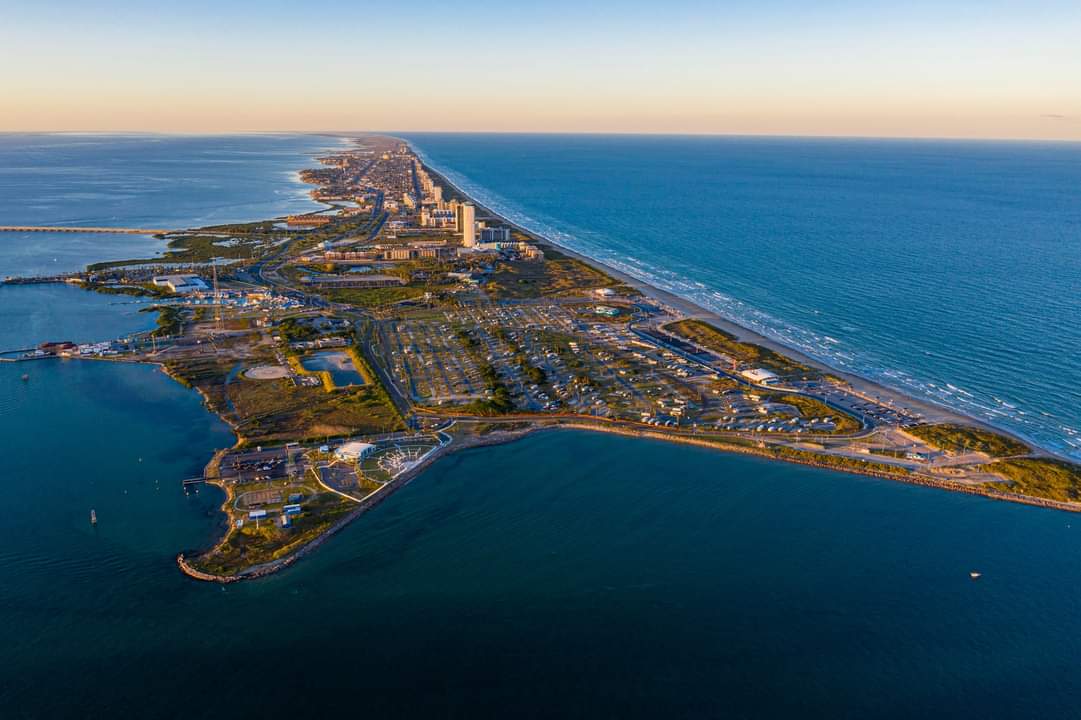 South Padre Island Texas
The southern most tip of the beautiful barrier island seperationg and protecting the Texas mainland from the Gulf of Mexico, South Padre Island has excellent weather and wind and watersport conditions all year round.
How to Get to South Padre Island

There are 3 airports nearby BRO, HRL, MFE

BRO in Brownsville is 30 minutes

HRL in Harlingen is 45 minutes

MFE in McAllen is 1:30 minutes

All airports offer rental cars, Uber and Taxi services available as well.

South Padre Surf Shuttle is a great option instead of renting a car or hiring an uber or taxi. Surf Shuttle has large Sprinter Vans that can easily accommodate all your gear and more.

----------------------

Drive! Its further than you probably think, but can be a lot of fun to explore along the way, and well worth the effort.

Weather and Wind Conditions

Although conditions vary from season to season we do have great wind and surf all year round.

Fall is a popular time for visiting kiteboarders. A light wetsuit might be necessary towards the end of October, and usually warm enough though late November.

Winter temps fluctuate from warm to cold we recommend to bring a warm full length wetsuit for cold days even though, it might not be necessary at all during warm weather.

Spring is another popular time for windsports vacations, although March can still have cold weather by the end of April we are typically out of wetsuits.

Summertime is the busiest time of year for South Padre with lots of beachgoers. Its hot, no wetsuit required. We typically kite every afternoon in summer.

---------------------

Mid Fall, Winter, and all the way into mid to late June we experience the full range of wind and wave conditions, including regular heavy wind and regular head high surf. In Summertime and early Fall high wind is unlikely, but most days have light to medium winds. Although we have great surf in Summertime wind on the waves is typically light.

A good tip is to call the shop or check your forecast app to see the weather and wind condtions and pack accordingly.

-

IKitesurf is the best app, follow this link to sign up and receive 20$ the all access paid version

Where to Ride

SPI has plenty of options for both flat water and wave riding.

If it's windy, there's always a place to ride.

Below is the list of most common kiting locations.

For additional information or clarification call us or stop by the Prokite shop.

We are always happy to provide assistance. 
Kiteboarding Locations
Isla Blanca Park a.k.a. "The Jetty"

A great place to ride S and SE wind and waves. Also popular foil and wing spot especially when surf is small. Ocean conditions vary day-to-day and offer something for everyone. Those just starting out in the ocean will enjoy flat to waist high waves, for experienced riders there are many days with shoulder to overhead plus.

Map

South Flats

Free, excellent flatwater, good in all wind directions and for all experience levels, good vehicle access and dry parking close to the launch. Lots of room and rarely overcrowded. South Flats is where Prokite sets up for lessons and rides most of the time.

Map

North Flats

Vehicle access to what is known as the North Flats has been restricted for the time being, but there are still paths through the dunes that can be followed in to access the bay at 'outlaw flats' and 'kite ranch' which just past North Flats. A new public park at North Flats is now in the permitting process, but in the meantime kite with us at all of SPI's other great spots and feel free to reach out to SPI's city council and let them know how much you appreciate bay access for kiting in South Padre Island: https://www.myspi.org/mobile/council/

Map

End of the road

Good in all wind directions, but primarily used as the start point for downwinders in North winds, and a great place to beach fly and buggy ride. Soft sandy beach with paved roadside parking. A Prokite team favorite in fall and winter for north-to-south downwinders. Never crowded. Strong North winds typically offer the most challenging and potentially rewarding wave riding here on South Padre.

Map

The Ditch

Excellent flatwater riding in S and SE winds. Good for all experience levels. Onshore wind at the launch, deep water in the middle shallow on the banks, it is a great place for flatwater full length mast foil riding as well. Mostly foot friendly in the water but pay attention on the beach for cactus and litter debris. Dry dusty dirt and clay ground makes it tricky to keep the gear clean post session but not impossible, when a large boat is approaching it is best to exit the water, they will create a potentially dangerous tsunami effect 'tanker wave' and block the wind as they pass.

Map

Ocean Beaches

All SPI beaches are open to kiteboarding with amazingly no restrictions on where we can launch or ride. Let's keep it that way by following some simple safety guidelines.

DO respect all beach users.

Don't launch in a crowd or fly over people's heads.

DO find an open space to launch and land. Avoid crowded locations. 

Don't ride hard near shore.

Don't ride through swimmers or surfers.

Experienced kiters only. 

The kiteboarding community thanks you for your cooperation.

Holly Beach

SE and E wind. Excellent flatwater riding.  Experienced kiters only as there is no good downwind takeout option and the bottom is not foot friendly, surf boots are recommended or don't put your feet down out there.  

Map

Boca Chica Beach

A long drive from the Island, but a great adventure spot.  Excellent clean surf in N winds.  Great view of new SpaceX facility too. Opposite side of the jetties from Isla Blanca Park.

Map
Lodging
Hotels

Many Many hotels to choose from. Can be convenient for Solo travelers and shorter trips.

Condos

Prokite is happy to recommend these Condos and Rental Agencies to check with first. Please mention Prokite or enter discount code "PROKITE" when booking online. (ALL CAPS)

More Option

Camping

---Campgrounds ---

KOA

--- Off Grid ---